13 fortune cookies that aren't helpful at all
"Potato."
Fortune cookies are arguably the most exciting part of a Chinese meal – they bring sweet relief with an added bonus of predicting your future.
They are notorious for being somewhat vague and imprecise, but there are times when even the fortune cookies go too far. Here are some of the biggest fortune cookie fails people have had the misfortune to crack open.
Because not all prophecies necessarily come true.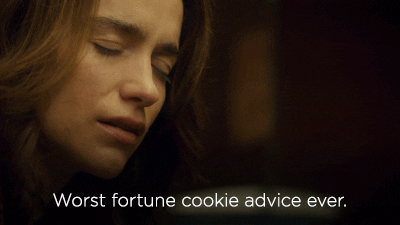 1. This one can't be bothered with a fortune.
My fortune cookie today. Seriously?! #fortunecookie pic.twitter.com/v19Pf1L2w0

— Eddie Coleman (@Eddie_Runs) July 19, 2017
2. Whereas this one provides absolutely no help at all.
My kid got the worst fortune cookie. pic.twitter.com/4Fq7kWEcMw

— Terry Moore (@TerryMooreII) July 18, 2017
3. Then there are the ones that are just so delightfully vague.
No. I need specifics, fortune cookie! pic.twitter.com/3Lzcn7Lj0v

— Cal Lundmark (@calundmark) July 19, 2017
4. This one is either ominous or just plain rude.
Even my fortune cookie thinks I need to lose weight pic.twitter.com/dbIIeuuIMr

— woop (@Woopsire) July 15, 2017
5. Some fortune cookies foray into politics, but this one won't make you feel any better.
This fortune cookie keeps it real pic.twitter.com/d37FK8v6bw

— Morgan Howell (@morganhowelll) July 12, 2017
6. Some are just a bit strange.
7. Um…sure.
8. Some fortune cookies might be well-intentioned, but are incredibly awkwardly timed.
When you're at Panda Express with yo man, and you open your fortune cookie and it says this...... pic.twitter.com/KxEMsJGaJQ

— Dirty Diva (@ItsDeevz) July 11, 2017
9. And others seem like they're trying to make you feel bad.
lol this fortune cookie don't know me at all, sis. pic.twitter.com/QB9Kb40njE

— zack-o'-lantern (@alexwareable) July 11, 2017
10. This one probably can't be counted as a fortune at all.
Last night we got ourselves a Chinese as neither of us were in the mood for cooking. Today I opened my Fortune Cookie.

Erm... Is this good? pic.twitter.com/QTHmNaHCT1

— Jolly Roger (@RogerVMitchell) July 11, 2017
11. This one is uncomfortably specific.
12. Surely this has got to be a typo?
13. Well, at least all of the above are a bit better than getting no fortune at all.
@PandaExpress my fortune cookie I received yesterday was empty. What are you trying to tell me? pic.twitter.com/JdG7pp6WAa

— Chessy Weiner (@chessy_weiner) July 20, 2017