The PSNI chief constable said he has not seen any detail about plans for a new unit to deal with legacy investigations.
Legislation to enact commitments made in the Stormont House Agreement, which include an independent Historical Investigations Unit (HIU), were promised by the Government within 100 days of the New Decade New Approach deal.
On Wednesday night, Sinn Fein vice president Michelle O'Neill voiced concern over what progress has been made to that promise more than 50 days after the New Decade New Approach deal was published.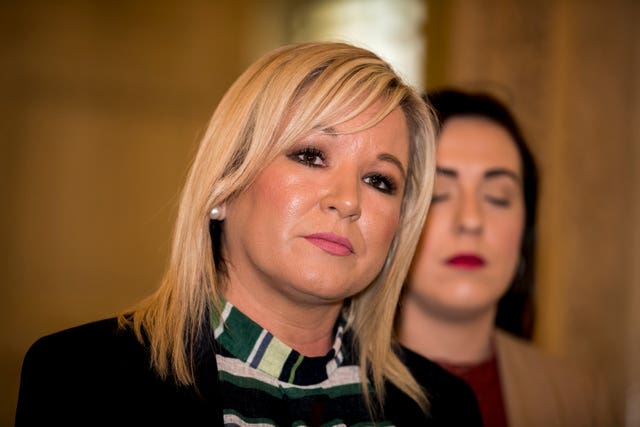 On Thursday, PSNI Chief Constable Simon Byrne said after his meeting with Ms O'Neill he received assurances from Secretary of State Brandon Lewis, but had still not seen any detail.
"We hadn't seen formally yet any detail about what might happen in the space of setting up something akin to an historical investigation unit," he said.
"It was opportune that my next meeting was with the Secretary of State and I was able to directly feed in concerns and he was able to reassure me that there were plans probably being prepared to bring forward legislation within the 100 days. So I await with interest."
Asked if it would be the HUI, Mr Byrne responded: "Well, we presume so. That was the commitment but I have no insights as to the detail yet, but we'll be keen to see what it is so we can so that we can work with the legislative body to shape the legislation if we need to, if there is a period of consultation and also to make plans for example to transfer the evidence and all the information to a new body.
"I think it would be a step forward because it is well rehearsed for example in the space of recruitment and trust that legacy is one of the issues that holds us back from attracting people from a broader background, particularly Catholic communities to join the PSNI."
Mr Byrne also cautioned that any new body would take time to set up.
"I think we have to be realistic, this isn't going to happen overnight, so we have to manage current investigations as well as the transition to a new body and answer questions about who is going to lead it, how it will work, where it will be based, and what's the breadth in terms of reference to see what sorts of inquiries it will undertake," he added.
The chief constable also told a meeting of the Northern Ireland Policing Board that he had "no confidence" he would see the cash promised in the New Decade New Approach deal for additional police officers to bring his officer power to 7,500.
"Clearly we were pleased with the announcement in the New Decade document … at the moment I have no confidence that we are going to see the money this side of the settlement, there has been no real dialogue about how we would increase the service this year to that level," he said.
"We recognise that even if we were given the money in April we would struggle to recruit at pace between the 6,900 we are at now to 7,500 because there is some logistical issues.
"But again at the moment there is no clarity and no detail about when that money would be made available."
On Wednesday night, a UK Government spokesman responded to Ms O'Neill, saying: "The Government is focused on delivering its commitments as agreed as part of the New Decade, New Approach deal, including introducing legislation on legacy.
"Further detail will be set out shortly."
PA