Efforts are under way to source more personal protective equipment for workers in Northern Ireland from London and Dublin.
First Minister Arlene Foster said the UK government is currently trying to source more PPE from 25 different countries, adding Northern Ireland is "part of that process".
In Dublin, plane loads of equipment sourced from China are landing this week.
Deputy first minister Michelle O'Neill said conversations had been had with Tanaiste Simon Coveney and Irish health minister Simon Harris around PPE provision.
Ms Foster said the release of stock from pandemic stockpiles announced earlier in the week has increased volumes for distribution, with access to over three million items of older PPE including aprons, masks and gloves.
"Steps have also been taken to streamline and improve PPE distribution and to ensure the independent care home and domiciliary care providers are supported as well," she said.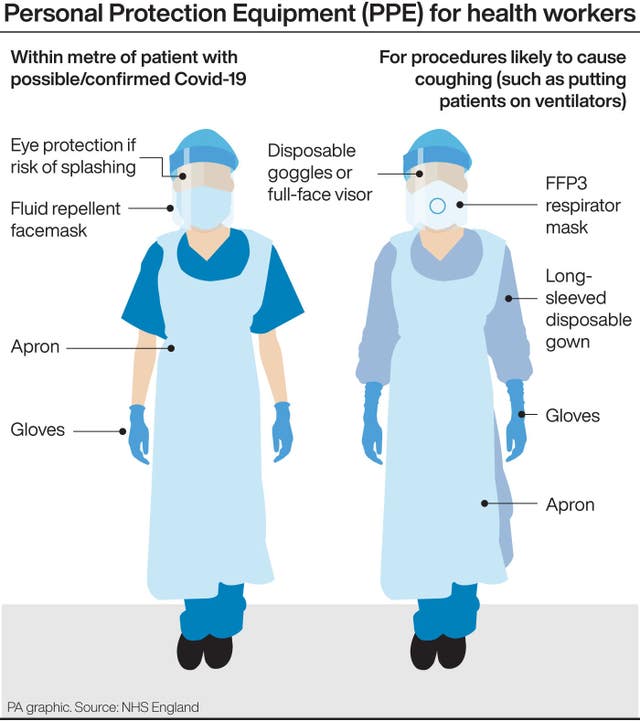 "I understand from meetings earlier today that the United Kingdom government is sourcing PPE from 25 different countries, so we will be part of that sourcing as well."
Mrs O'Neill said it is a challenge "across the island".
"I hear it every day, healthcare staff are crying out for PPE, they're asking for scrubs, they're asking for aprons, they are asking for masks and that is the reality on the ground for healthcare workers," she said.
"Those people who are going about their job need to be supported to do their job so we need to make sure there is adequate PPE, that people feel confident in the fact there is going to be enough PPE, we need to make sure that filters right down to the domiciliary care worker in the community.
"We need to do more in terms of PPE and we need to work together where we can to make sure we attract the right amount of PPE."
PA