Relatives of those killed in a notorious loyalist mass shooting said they were suffering "daily torture" due to delays in publishing an investigation.
Five people were killed in February 1992 when members of the loyalist Ulster Freedom Fighters (UFF) opened fire on the Sean Graham bookmakers shop on the lower Ormeau Road in Belfast.
What they're putting us through mentally equates to a form of daily tortureBilly McManus
Too many loved ones have died without knowing the truth, the son of one of the victims awaiting a Police Ombudsman report said on the anniversary of the killings.
Billy McManus said: "What they're putting us through mentally equates to a form of daily torture.
"People are dying without any form of truth or redress as delay after delay occurs."
Former Ombudsman Michael Maguire has found that "significant, sensitive information" around the incident at a bookmakers in south Belfast was not made available to his investigators.
A legal challenge by retired RUC officers after the ex-ombudsman found collusion in the 1994 Loughinisland attack which left six people dead has also held up publication of reports pending its outcome.
The families and survivors of the bookmakers added: "Certain actions in the courts, in our view, are also designed to thwart attempts at getting to the truth."
No-one has been convicted over the killings.
The families of the victims have previously said they believe there was collusion between the killers and security forces in the betting shop shootings.
It's the not knowing that eats away at you every day and adding to the overall traumaMaria Sykes
Maria Sykes, sister of victim Peter Magee, said: "We need this report to find out exactly what happened.
"It's the not knowing that eats away at you every day and adding to the overall trauma.
"We need this report in terms of healing, recovery and moving on as best we can – repairing our lives."
Helen Duffin, widow of Jack, is aged in her 90s and Roseleen McManus, widow of Willie, is 80.
Families hold concerns that if delays continue then they might not see the publication of the long-awaited report.
We can't but help feel this is deliberate and designed as a stalling tacticJim Clinton
Solicitor Niall Murphy said: "The legal challenge has meant that significant reports by the ombudsman into just fewer than 40 murders have been held up pending the outcome of the challenge.
"And it is this delay that affects families awaiting the outcome of reports into the murders of their loved ones.
"I share their frustrations about continuous delay."
Operation Achille is the name given to the Police Ombudsman investigation into the Ormeau Road atrocity and it includes six additional murders by the same UDA gang during the 1990's in south Belfast in which collusion is also a key feature, families said.
Jim Clinton, whose wife Theresa was murdered in April 1994 and which forms part of the Operation Achille, said: "It's galling when you think that the very organisation under scrutiny as part of the ombudsman's investigation into the murders of our loved ones is the very same organisation taking these challenges and causing further harm to families.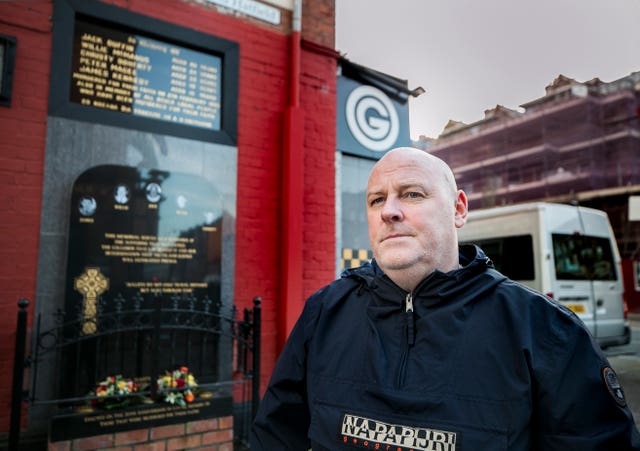 "We can't but help feel this is deliberate and designed as a stalling tactic.
"There's all this talk from politicians and former police about vexatious prosecutions and the persecution of former police and soldiers, and yet no-one in this jurisdiction can point a finger to one single case where this is evidenced.
"To us it feels like the vexatious actions are being taken by former police who want to thwart the ombudsman and limit what little powers they have.
"When they're not attacking the ombudsman in this way, they're pulling the purse strings, tying one hand behind their back."
On the anniversary of the 1992 attack, Police Ombudsman Marie Anderson said she recognises the continued grief, anguish and trauma of the bereaved families.
"There are a number of reasons which have prevented me from being able to publish my report into the circumstances surrounding this attack, in which five people were murdered and others injured," said Mrs Anderson.
"We are continuing to progress a number of lines of inquiry as a result of the discovery in late 2018 of material which had not been provided to my investigators by police.
"We are also continuing to assess additional potentially relevant information which came to light in October 2019. This information was discovered as a result of work on a police database undertaken by the PSNI as a consequence of the earlier disclosure issue.
"The assessment is nearing completion. When it's complete I intend to write to all the families affected by the issue."
Mrs Anderson has also confirmed she is awaiting a judgment about her powers when publishing reports about investigations completed by her office.
PA