Between 800 and 1,000 people attended a meeting in Cork on Monday night to rally public support for Sinn Fein's efforts to get into government.
Over the next fortnight, further meetings are planned for Dublin, Galway, Cavan and Newry.
Sinn Fein leader Mary Lou McDonald said the rally is a continuation of "a conversation" she has been having around the country with voters.
She added: "Tonight is very much a conversation. I don't think it is wise that the election happens, people cast their vote and then the politicians disappear behind high walls and have discussions and leave people out. I think it is healthier to involve people, listen to people, answer their questions and listen to their ideas.
"I'm not going to claim the trademark on public meetings, this is a thing that good political parties do. Certainly for me as the leader of Sinn Fein it is important that we maintain people's interest in politics, rebuild faith in politics and at the heart of that is listening to what people say."
Ms McDonald has described Taoiseach Leo Varadkar's description of their public meetings as "ridiculous".
Speaking ahead of their first public meeting in Co Cork on Monday night, she said: "I think his comments were completely over the top. It is obvious the political establishment are struggling with the result of the election.
"I think they are having difficulty coming to terms with it but that is what they must do. For a reasonable, sensible person – the suggestion that holding public meetings is somehow an affront to democracy is ridiculous."
Mr Varadkar hit out at Sinn Fein's plans to hold rallies, describing them as a campaign of "intimation and bullying".
The party has organised a number of public meetings on both sides of the Irish border to drum up support in its bid to be part of the next government.
Mr Varadkar said the plans are an "unwelcome development".
It seems that Sinn Fein, having won less than a quarter of the vote, are behaving as if they have won a majorityTaoiseach Leo Varadkar
"Generally what happens in a democracy is people vote, the votes are counted and then parties try to form a government," he said.
"What's happening here … it seems that Sinn Fein, having won less than a quarter of the vote, are behaving as if they have won a majority.
"My party regularly won more than a quarter of the vote and didn't get into government.
"I think these rallies are designed to be the next phase in Sinn Fein's campaign of intimation and bullying.
"We saw that online and now we are seeing it in their rallies, and I wouldn't be surprised if the next step is that they take it to the streets.
"It just shows you, again, that they are not a normal party; this is a party that has a casual relationship with democracy."
Mr Varadkar is meeting Fianna Fail leader Micheal Martin on Tuesday.
The Fine Gael leader previously said his party was preparing to go into opposition.
Mr Varadkar denied that the meeting between the two leaders was a change in Fine Gael's approach to government.
"As I said last week, we would be willing to engage in exploratory talks with any party that wants to speak to us," he said.
"That's happening with Fianna Fail and the Greens this week. Labour have their own issues and don't want to talk, and Social Democrats cancelled their meeting we offered them, so really it's just exploratory discussions at this point with Fianna Fail and the Greens this week.
"What I would say is that the onus really still falls with Sinn Fein to form a government.
"They on the left believe they won the election, they have an opportunity now to prove that now by forming a government, and if they can't form a government they should fess up and say they didn't actually win the election, and even if they had they disagree with each other so much that they wouldn't have been able to form a government anyway."
Mr Varadkar was speaking at event where Mastercard confirmed it is creating 1,500 jobs in Ireland over the coming years.
Asked where all the newly recruited staff would live in Dublin, Mr Varadkar said that one of the "features" of a strong economy was the pressure on housing.
He also hit out at other political parties' housing pledges made during the general election.
"We have heard a lot of people in the last couple of months making out that they can magic up houses overnight or even within a few weeks; that isn't true. We are going to stick to what is true, and that is continuing to scale up an increase of number of new homes," he added.
Meanwhile, Northern Ireland Secretary Brandon Lewis refused to be drawn on whether he agrees with the 2015 independent report which stated that the IRA Provisional Army Council still oversees Sinn Fein.
It comes after Garda Commissioner Drew Harris said his force's assessment of the report "does not differ" from the PSNI's.
Mr Lewis was asked about his view of the report during a visit to Londonderry on Monday.
"We got the assessment from 2015, I've got nothing to add from that," Mr Lewis said.
"I think there has been a lot of coverage of that over the last period. My focus is about looking forward."
Sinn Fein TD Pearse Doherty hit back at Mr Varadkar's claims that Sinn Fein's public rallies are part of a campaign of "intimidation and bullying".
Speaking in Dublin on Monday afternoon, he said: "This is about public meetings. These are hysterical rants from the Taoiseach. These are public rallies and a chance to engage with the public.
"Today, we are having detailed discussions with the Green Party about how we could put together a programme for government that deals with the big issues.
"We want to go back to the people, report to them on how the Government formation discussions are going, who we are speaking to and who we are reaching out to."
Meanwhile, Green Party leader Eamon Ryan said his party will hold several meetings with its membership around the country in the weeks ahead similar to the rallies being held by Sinn Fein.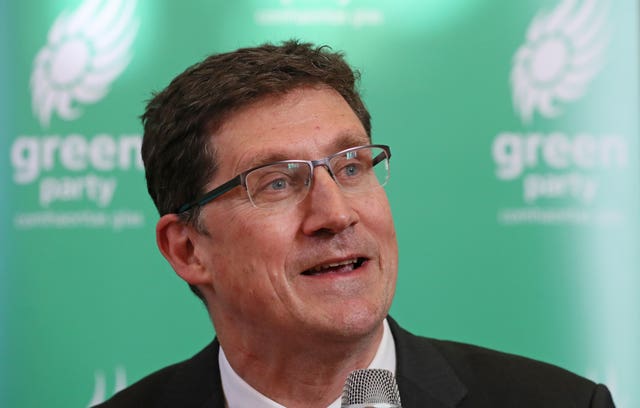 Speaking following a meeting between the Green Party and Sinn Fein on Monday, he said parties need to look at what they have in common.
"I think we were right to give them the hearing. To work with them in a collaborative way to see what is possible, rather than rule things out straight away.
"I think that process helps if we can then move to the stage of proper multi-lateral talks, that's it on the basis of substance and is starting on the right path."
Mr Ryan said the Green Party will give any party a fair hearing and will not rule anyone out.
"Our preference is for as wider a coalition as possible because the scale of change we seek to address the climate and biodiversity crisis needs that wide co-operation."
PA