The Omagh bomb families deserve justice, Deputy First Minister Michelle O'Neill has said.
Twenty-nine people, including a woman pregnant with twins, died in the 1998 Real IRA car bomb.
Relatives of the dead have been campaigning for a public inquiry into claims intelligence from British security agents, police and MI5 could have been used to prevent the bombing.
Ms O'Neill said: "I am more than happy to do whatever I can to support those families in terms of receiving justice."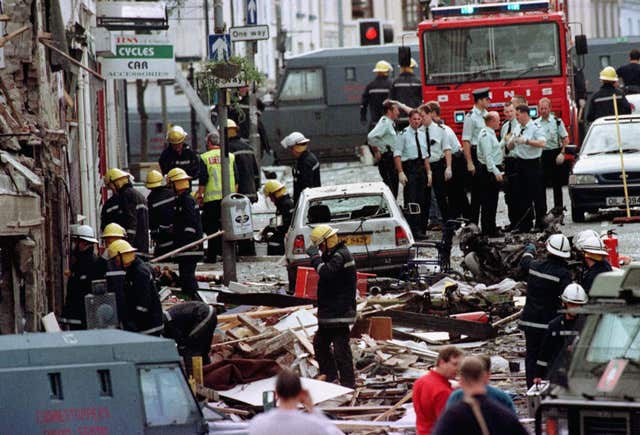 She added: "Anyone who has been hurt deserves to be supported in a way that is important to them."
Michael Gallagher's son Aiden, 21, a mechanic planning to start a new life in the US, was among those to die.
His father has led a relentless campaign for answers about what the authorities knew about the Omagh bombing.
Mr Gallagher said Ms O'Neill's intervention was "hugely important".
We know there were serious failings, Omagh was a preventable atrocityMichael Gallagher
"It sends a strong message out there, particularly from the heart of our local government, that the politicians have not forgotten what happened in Omagh and we do need that inquiry.
"We do need the truth of what happened in Omagh."
In 2014, former police ombudsman Dr Michael Maguire published a report which said RUC Special Branch, which was responsible for intelligence, had withheld information from detectives trying to catch the killers.
Mr Gallagher said: "We know there were serious failings – Omagh was a preventable atrocity.
"We need closure on that and it is important that that inquiry should go forward.
"I am very heartened that it has had a mention by the Government."
No one has ever been convicted of carrying out the attack.
PA