Police should immediately review their appointment and training of staff responsible for disclosing information, an inspection report in Northern Ireland has concluded.
The PSNI failed to produce all its files on the Sean Graham Bookmakers killings in Belfast in 1992.
Further errors cannot be ruled out, a review concluded.
Five people were killed by UDA paramilitaries in the gun attack.
The Criminal Justice Inspectorate said no specific guidance was available to officers searching for material for a Police Ombudsman probe into how the murders were investigated.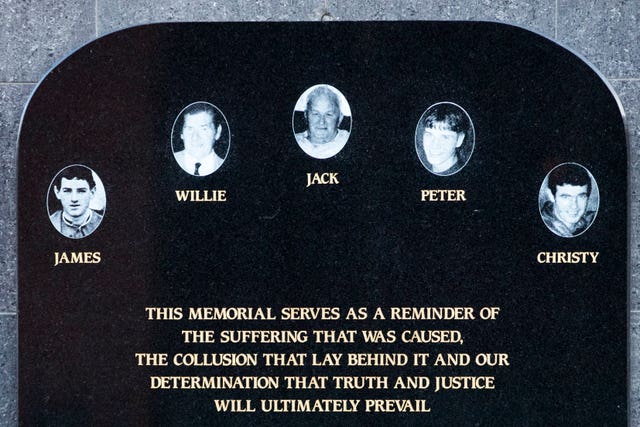 It also praised the knowledge and professionalism of staff and said efforts had been made to fill recruitment gaps.
Chief inspector of criminal justice in Northern Ireland Jacqui Durkin said: "Staffing increases and the transfer of information from outdated computer systems to modern IT platforms with better search capability are welcome developments.
"However, further work is needed by both organisations to establish more effective systems and better processes."
In February last year the former Ombudsman said investigators had identified sensitive PSNI material which had not been made available in relation to the Sean Graham killings.
The PSNI acknowledged disclosure failings, apologised to those affected, and said that it had not sought to deliberately withhold information.
One part of the PSNI, the Legacy Support Unit, found material for a civil litigation which was not disclosed by another part of the organisation, the Liaison Office.
That showed that the PSNI needed a mechanism for making material available across the organisation, the inspector said.
Ms Durkin noted tensions between aspects of the independent Ombudsman and the PSNI's operations.
Those included the watchdog's repeated suspicions about less than full disclosure by the PSNI and potential harm to their relationship caused by large numbers of files requested by the Ombudsman then not read due to shifting priorities and other legacy work.
Police are introducing a new case management system to provide assurances that the force's disclosure and discovery regimes are effective and consistent across the organisation.
Ms Durkin urged the two organisations to "work hard together" to strengthen trust and repair damage to public confidence.
She said: "Inspectors found substantial work was already under way within the PSNI to address issues that contributed to the initial police failure to provide all relevant material to the Ombudsman's office, when fieldwork for this review began in spring 2019."
We must continue to critically evaluate our systems and processes to limit the potential for any recurrenceMark Hamilton, PSNI
That included staffing increases and the transfer of information from outdated systems to modern platforms with better search capability but further work was needed.
Ms Durkin said police needed to carry out a full audit of historical records to establish what material it had and where it was located because there was no central inventory of hard copy historical material.
PSNI deputy chief constable Mark Hamilton said much of the work on the recommendations from the report is already well progressed and, in some areas, has already been completed, significantly reducing the risk of the error recurring.
"The Inspectorate are however right when they say that the risk of a further error cannot be fully eradicated and that is why, along with OPONI, we must continue to critically evaluate our systems and processes to limit the potential for any recurrence."
The force accepted in full the recommendations for PSNI within the report.
Mr Hamilton added: Both the PSNI and OPONI have, and are committed to working together, to continually improve our systems and processes for disclosure so that we can provide families who have lost loved ones with as much information as possible on their deaths."
PA