The coronavirus outbreak could see up to 15,000 deaths in Northern Ireland in a "worst case nightmare scenario", the region's health minister has warned.
As the first death in the region was reported, Robin Swann spelled out how bad the situation could be if all social distancing measures and hand hygiene steps failed.
He earlier told a Stormont media briefing that 9,000 people could die in the outbreak, as he warned of a surge of biblical proportions.
That figure is based on a 50% infection rate and applying the observed worldwide mortality rate of 1% – so 9,000 deaths among the 900,000 people infected.
The minister later told PA Media that if 80% of the population (1.5 million) was infected – his department's worst case planning scenario – then the death toll would be much higher.
Mr Swann told PA: "If we fail as a community to take the necessary action to slow down the transmission of the virus, up to 80% of the Northern Ireland population could be infected during this pandemic.
"If all the public health advice is ignored, in a worst case nightmare scenario and with a fatality rate of 1%, then that could mean up to 14,000-15,000 lives lost."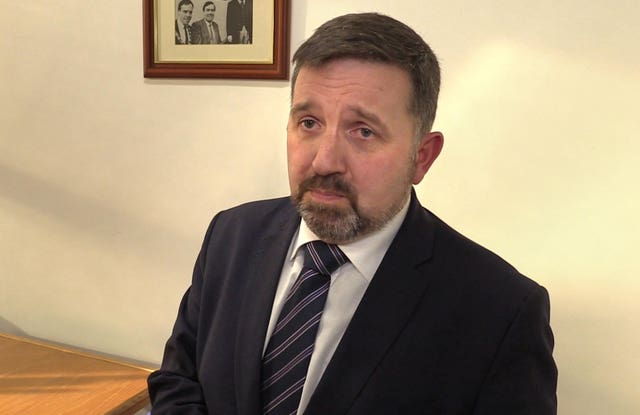 Mr Swann said the figures highlighted the importance of people taking the advice on social distancing seriously.
"So the steps that we're asking you to take about social distancing, about staying at home, about hand washing – these aren't light requests, these are things that can pull down the number of deaths, they can pull them down significantly," he said.
Earlier, Mr Swann announced his surge plan – which will run to mid-April – which includes maximising staff numbers by deploying final-year medical students and prioritising essential services.
He said the health service is "becoming unrecognisable".
Thursday saw confirmation of the first Covid-19 related death in Northern Ireland.
The Department of Health said the patient, who died in hospital in the Greater Belfast area, was elderly and had an underlying health condition.
First Minister Arlene Foster described it as a sad day for Northern Ireland.
A total of 77 people have tested positive for Covid-19 in the region.
In the Irish Republic, 557 people have tested positive and three have died.
Under the surge plan announced by Mr Swann, increased testing will be available to frontline health and social care staff, ensuring that they can continue to deliver vital services.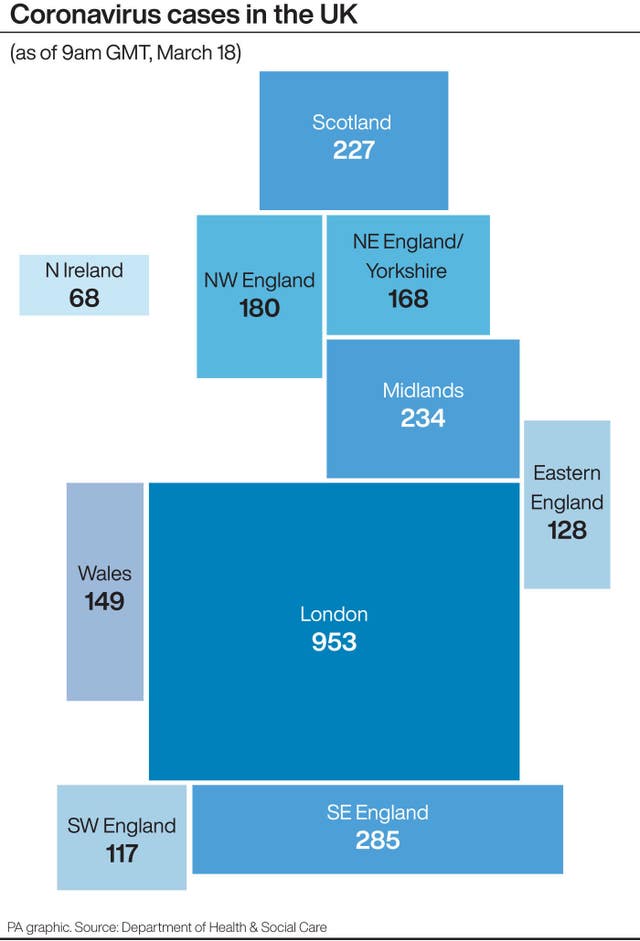 Allowing third-year nursing and midwifery students within the last six months of qualifying to be deployed will provide support of up to 880 senior nursing and midwifery students.
All health trusts have identified specific wards to provide extra bed capacity for coronavirus patients and some 40 additional mechanical ventilators have been ordered, taking the total available in Northern Ireland to 179 by the end of March.
Renewing his plea to the public to practise social distancing, Mr Swann said the measures could potentially reduce the peak by some 50% and cut deaths by up to a third.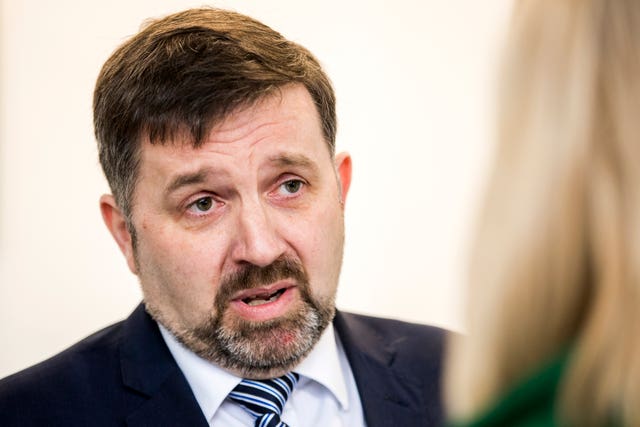 "Planning assumptions also indicate that 8% of infected people will require hospitalisation, 0.7% will require critical care, and 1% will die – although these figures will vary highly depending on age and other health factors," he said.
"There is no doubt that these measures come at a cost. They will be difficult for people to stick to. They will have significant social and economic impacts. But they will save lives.
"We all must continue to rigidly follow the advice on hand-washing and 'catch it, bin it, kill it' when we cough or sneeze and use a tissue.
"I cannot emphasise this enough. This will help keep more of our family members, neighbours and friends well and by doing so reduce pressures on our health service.
"As I have already stated publicly, doing the right thing is essential if the health and social care system is to get through this."
Mr Swann also issued a thank you to staff in the health and social care sector for their work so far.
"I am proud of you and I commit to giving you my full support in the days and months ahead," he said.
"The words 'thank you' seem woefully inadequate in the circumstances but they still need to be said – on behalf of everyone across our society."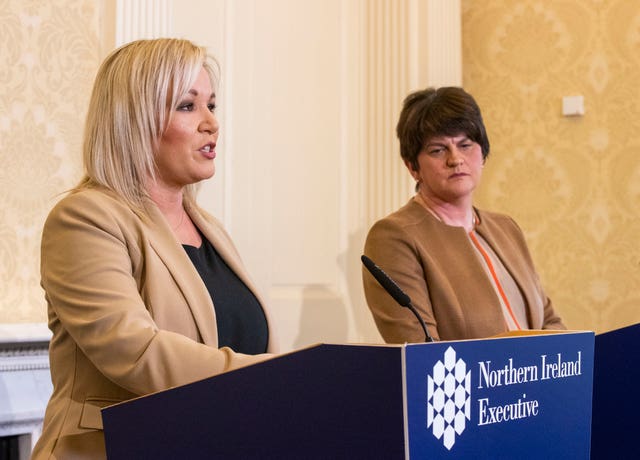 Ms Foster, speaking at Thursday evening's press conference, outlined the Executive's "robust approach" to coronavirus.
She said it included increasing the health and social care workforce, reducing administration and paperwork required and new powers to deal with events and mass gatherings.
There was also mention of a "raft of measures aimed at supporting people and these include support to the food industry to guarantee food supplies".
Deputy First Minister Michelle O'Neill urged the public to follow advice to fight the virus.
"Social distancing isn't easy, staying apart isn't easy but it's necessary," she said.
"Hand washing, it sounds very, very simple, but it kills the virus.
"These actions do work and will reduce the deaths by up to a third.
"We are facing the greatest test of our community in our generation."
PA