Police working in custody suites in Northern Ireland are set to receive spit and bite guards for protection from coronavirus.
The guards, made of mesh and plastic, are placed over the head of a person who is threatening to spit or bite officers.
The representative body for officers, the Police Federation, earlier called for the equipment to be introduced amid reports of constables being intentionally coughed at by people who said they had coronavirus.
Chairman Mark Lindsay urged the issuing of the spit and bite guards to allow officers to carry out their job "safely and professionally".
However Amnesty International has cautioned against their introduction, adding if deployed they must be used with "extreme caution".
On Friday afternoon the Northern Ireland Policing Board said Chief Constable Simon Byrne had advised the board that an operational decision had been taken to introduce this equipment into custody suites.
In a statement, the board said it had supported this call.
Assistant Chief Constable Alan Todd told the PA news agency that the spit and bite guards will be introduced into custody suites over the coming days.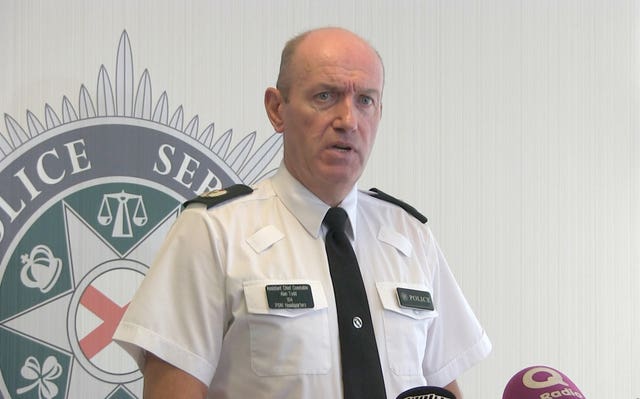 "They will be introduced into that space, the wider introduction of them is a matter between the Chief Constable and Policing Board, I know those conversations are ongoing," he said.
Earlier this week, a man was released on bail at Belfast Magistrates' Court after being accused of intentionally coughing at police officers after telling them he had coronavirus. The man denies the charges against him.
ACC Todd said there has been "several" incidents of officers getting coughed on or spat at.
"Coughing and spitting over people is reprehensible at the best of times, it is completely reprehensible at the current time, and anyone who does it can expect to be arrested and brought before the courts," ACC Todd said.
Amnesty's Northern Ireland programme director Patrick Corrigan said: "We would advise against the use of spit guards in the context of coronavirus until specific guidance has been developed on the risks and effectiveness for police officers and members of the public. If they are ultimately deployed, they must be used with extreme caution.
"Any illness which can impair breathing, such as Covid-19, means there are additional health risks to any use of force which could itself further restrict breathing. We know from experience elsewhere that spit hoods can restrict breathing.
"Putting a spit hood on someone will almost certainly involve additional risk of personal contact and possible struggle, potentially making it more rather than less likely that an officer could be infected."
ACC Todd also responded to criticism of measures in custody suites raised by North Belfast MP John Finucane, who claimed staff, prisoners and lawyers are being placed at risk.
"We have been aware of concerns from solicitors coming into custody suites to deal with people who have been arrested by police and we are working with them and their representative bodies to see how we do that," he said, adding video link and telephone conference technology was being used to reduce personal contact where possible," ACC Todd said.
He said if people with coronavirus are arrested they are taken to a "specific Covid-19 section" within the custody suite where "all the staff are fully protected as are the officers arresting".
"The general population in custody is at no more risk than the general population anyway, and therefore we're protecting our officers and staff in those situations where they are most likely to be exposed by people with the Covid-19 virus," he added.
PA