Sinn Fein leader Mary Lou McDonald has accused Fianna Fail and Fine Gael of using issues in Northern Ireland to make political capital.
Speaking on Wednesday morning after Tuesday's Leaders' Debate on RTE, Ms McDonald pointed to Fine Gael leader Leo Varadkar's criticism of Northern Ireland's public services as an example.
She said: "You saw in the debate last night, the issues around public services in the north, we've been shouting about this from the rooftops; the cutting of the block grant, a decade of Tory austerity, has been devastating for the health and public services.
"Then (Fianna Fail leader) Micheal Martin or Leo Varadkar use that to suggest that the Assembly is in some way comparable to the Dail, when they know London holds the purse strings – I think that's dishonest."
Mr Varadkar appeared on Newstalk Radio on Wednesday morning where he repeated his argument that Northern Ireland is different from the Republic, and at one point compared Stormont to a "local authority".
"He's talking out of both sides of his mouth," Ms McDonald said in response.
"It's not fair to say the Assembly is the equivalent of a local authority, but it doesn't have fiscal powers, so when we talk about the damage to the health service, we're saying: 'Yes, what are you going to do to help us?'"
Ms McDonald noted that her issue was not on the current controversy surrounding Sinn Fein minister Conor Murphy and his comments on murder victim Paul Quinn: "There are issues that are electoral, and there are issues that are way beyond that, as far as I'm concerned," she said.
"Without a shadow of a doubt they do (use Northern Ireland for political gain) – but not in this instance, I just want to make this very clear, I am not suggesting that in respect of the Quinn family's campaign for their son.
"My main concern, and I mean this, is that Breege Quinn and the wider family are given some peace from the apology from Conor (Murphy) and beyond that, I don't think you should think about things like this in terms of how it'll affect of polling, I think that's crass, I don't think circumstances like this should be politicised."
Ms McDonald went on to add that the main Irish political parties often use Sinn Fein's political history in Northern Ireland during the election campaign to score points.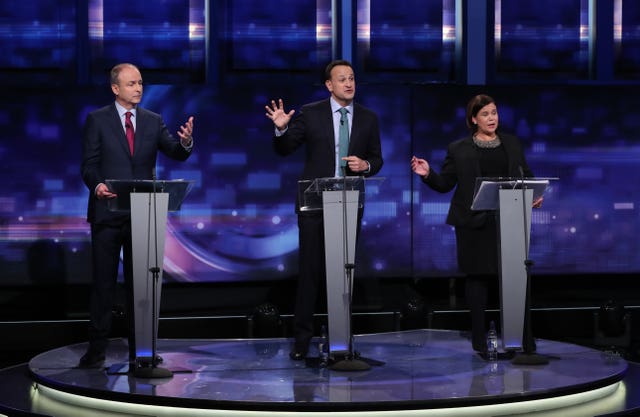 "There are some in the Irish political establishment who reach for the north, only and solely to damage Sinn Fein, to dredge up people's real suffering, as a way to score political points, and I think that's, at this stage, beneath all of us," she said.
"We have to build for the future and there is nothing to be gained from selectively reaching for the past.
"What we need to do is give the people who suffered through the Troubles the space, the supports and the mechanisms to get as much closure as is possible, and that goes for all people across the community."
When asked if it makes her uncomfortable when called upon to apologise for IRA activities in the past, as McDonald herself was only 20 and not a member of Sinn Fein at the time of the Good Friday Agreement, she says that she understands her role.
"The thing that frustrates me is that 'down here', as we call it, there is sometimes no appreciation for the huge progress that has been made in the north," she said.
"People are partitionist when they wish to be.
"But I'm the leader of Sinn Fein, and it's right that you will questioned and tested and challenged, but I think all of us have a duty to mind the peace process and that's not compatible with consistently using the north and the past as political capital."
PA