An employee at Apple's plant in Cork has been diagnosed with Covid-19, the company has confirmed.
Some employees have been asked to stay away from the campus which has more than 6,000 staff.
An Apple spokesman said: "We are closely co-ordinating with the local health authorities who feel the risk to others is low, and the individual remains in self-isolation.
"As a precaution, we have asked some of our team members to stay at home while we work with the Health and Safety Executive to assess the situation.
"We are continuing to regularly deep clean all our offices and stores and will take all necessary precautions in accordance with guidance from health authorities."
On Tuesday, 10 more cases of coronavirus in the Republic were confirmed, bringing the total to 34.
As part of efforts to contain the spread, a number of mass gatherings and events have been cancelled, while Trinity College Dublin announced it is moving classes online.
The university will close its lecture halls and other buildings from Wednesday.
A statement on the university website said: "From tomorrow morning (Wednesday 11), all lectures will be delivered online for the rest of the semester rather than physically in a lecture hall.
"However, tutorials, seminars and laboratory practicals will all continue to be given in the usual fashion while using social distancing protocols.
"This will allow Trinity to maintain continuity of teaching and learning while minimising the need to bring together students in large groups.
"This will slow the spread of the Covid-19 virus, but further measures may be necessary and these arrangements will be kept under continuous review."
The university also confirmed it has closed Ireland's oldest library and the Book of Kells exhibition.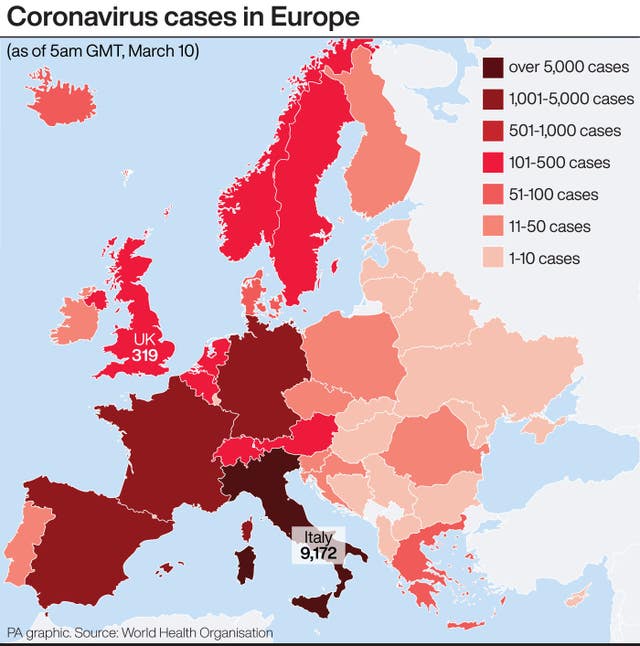 The Old Library, the Science Gallery and the Douglas Hyde Gallery will remain closed as the threat continues to grow.
The university said the measures are being taken in the interests of public health and to decrease any impacts on the community.
Republic of Ireland's Euro 2020 play-off against Slovakia on March 26 will be played behind closed doors on the instruction of the Slovakian government.
The FAI released a statement announcing that all fans who purchased tickets for the game in Bratislava will be refunded.
The Department of Education said it is not advising schools to close unilaterally.
A spokesman said: "Any decision to close schools will be made on public health advice. There is no such advice at this point.
"It is essential that any decisions regarding responses to Covid-19 are proportionate, necessary and based on specific public health advice.
"No other response is appropriate. Public health professionals will contact schools if there is any action to be taken. Schools should not take unilateral action."
The Irish Cancer Society has cancelled all Daffodil Day street collections and fundraising events on March 27.
Chief executive Averil Power said: "We have made this decision to protect the health and wellbeing of our patients, volunteers and supporters.
"We also want to focus all our energies on providing cancer patients and their families with the information, advice and support they need at this time."
PA