Labour leader Brendan Howlin has said his party does not have the mandate to form part of the next government.
Mr Howlin said his party failed to get the number of representatives in the Dail to implement its core policies.
He said, however, that the Labour Party could influence policy formation from the opposition benches.
The party won six seats in the general election, down from its previous seven seats.
Mr Howlin, who announced he is to step down as party leader in the coming weeks, said he had hoped to reach double digits in the Dail.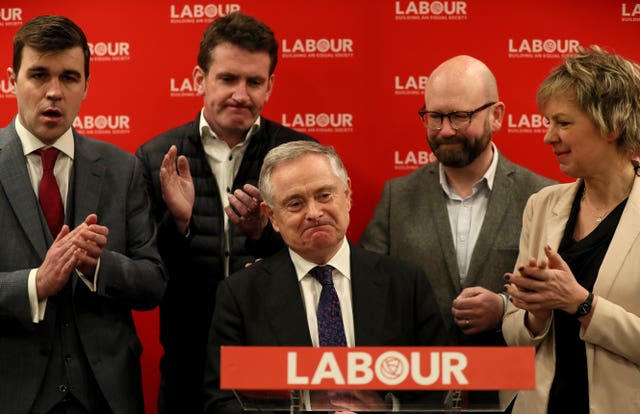 The Wexford TD, who took up the reins of the Labour Party in 2016, said they have lost "great colleagues" after former party leader Joan Burton and Jan O'Sullivan failed to be re-elected.
Speaking on Wednesday, he said: "There has been an extraordinary election. I think few people saw the type of outcome that has emerged and from our political point of view, obviously I was optimistic that we would reach double digits in the Dail.
"We haven't done that, but we have three new Dail deputies coming in.
"I spoke to the leader of Fianna Fail (Micheal Martin) last night and he contacted me and set out his thinking on the situation right now.
"My analysis is that there are three blocs of deputies in the new Dail.
"It is my firm belief that an amalgamation between two of those three blocs – that is Fianna Fail, Fine Gael or Sinn Fein – will be required to provide a stable government.
"From the outset I said our view is we want fundamental policy change and our discussions are entirely grounded on implementing the narrow range of policy that we set out, particularly in the area of housing."
Mr Howlin added: "It is my view that the Labour Party did not get a mandate to enter government.
"It is my view that we should not be formally part in any future government in this Dail because we don't have a critical mass to ensure the policy platform that is absolutely core to us is implemented.
"That view has been endorsed by the parliamentary party.
"What we will do instead is engage constructively with anybody else to implement the key policy issues and support those polices in the next Dail, wherever they come from.
"If anybody wants to talk to us about a programme for government that we can support from the opposition side, we will happily do that and I hope to engage constructively on policy formation on that basis."
I'd love to shape a common policy platform, even if we are not in government we can support that from the outside Brendan Howlin
The Labour Party general secretary is expected to put in place arrangements to start the leadership process.
The Labour Executive Board will meet this Saturday to formalise the proceedings.
Among those who will be expected to contest the leadership battle are Alan Kelly, Sean Sherlock and Aodhan O Riordain.
The Labour Party has suffered huge setbacks after its austerity measures were introduced in 2014.
Mr Howlin previously said his biggest political regret was how his party handled the water charges while in government.
The controversial measure was brought in under the Fine Gael-Labour government when Mr Howlin was the minister for public expenditure.
The party saw its representation in parliament fall from 37 in 2011 to seven in 2016.
Mr Howlin, who has served in the Dail since 1987 and held a number of ministries, said on Wednesday: "The Labour Party has chartered a lot of the progressive politics of this country for the last 70 or 80 years.
"I am very proud that the Labour Party has done that and will continue to do that.
"I'd love to shape a common policy platform, even if we are not in government we can support that from the outside.
"The simple maths of (the Dail) now shows that it needs two of the three large groups to go into coalition in some form to make that happen.
"We only go into government when we can actually shape a policy platform for government.
"With six seats we won't be able to shape a policy platform, we can influence it but that's not the same thing."
PA