A project aimed at tackling the stigma surrounding addiction unveils the trauma and shame addicts and families face through a series of simple and moving images.
The exhibition reveals the experience and recovery of people suffering from drug and alcohol addiction and how the families of the addicts cope.
Dr Maria Quinlan and Patrick Bolger used the method, Photovoice, to create the project which opens on Saturday in Dublin.
They worked alongside recovering addicts, people who are in active addiction and their families through Merchants Quay Ireland – a drugs service in Dublin.
Their stories are told through a number of photographs and personal accounts.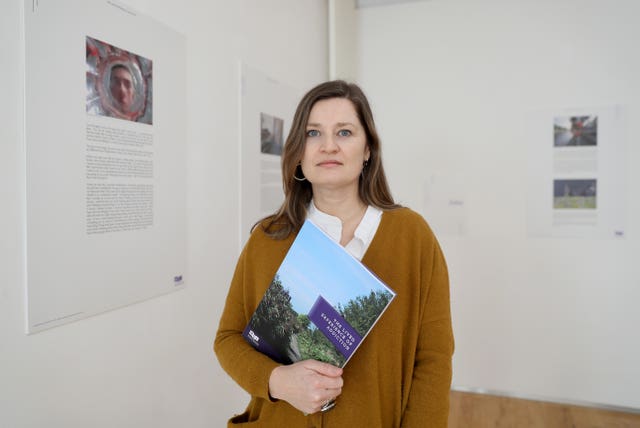 Carol Casey, head of fundraising and communications at Merchants Quay, said the stigma surrounding addiction is part of the issues that addicts face.
"The very fact that people are stigmatised makes it harder for them to put their hand up and seek the help they need when they need it," she said.
"People in addiction say they are even reluctant to reach out to their own families, neighbours and colleagues, yet they're dealing with a very difficult and challenging issue.
"We want to tackle that stigma by sharing people's stories.
"As a country we're used to telling stories and dealing with really difficult social issues by telling stories and I think we have the capacity to have compassion and we have the capacity to be empathetic towards people but we need to hear the stories.
"The truth of it is very often people arrive in addiction because of unresolved childhood trauma because of deprivation.
"There is a lot of stigmatising language around people in addiction, and we hear these words like junkie or druggie and people are being defined by their addiction but they're so much more than their addiction."
Part of the aim of the project is to encourage addicts to open up and talk about their experience.
Dr Quinlan, a sociologist, said that addiction is rooted in some kind of trauma.
One of the recovering addicts, called "Jason", became addicted to drink and drugs after suffering years of bullying over his weight.
He sought help through rehabilitation treatment centre, High Park and is going to college in September.
His story is told through pictures including the house where he used to take drugs and the cake to mark his first year clean of drugs and alcohol.
Dr Quinlan added: "If we give a voice to the people who are actually at the front line of an issue that we're struggling with as a society, and give them the power and control to share their stories and share their wisdom of the pathways into addiction and the recovery and how that is facilitated, that can help us as a society.
"Addiction is rooted in some kind of tragic trauma and it's rooted in some kind of pain and it's a response to pain and not feeling safe in your body.
"I think we really wanted to get under the skin of those issues.
"The nuance of addiction and the nuance of the humanity behind it – there's so much going on and it's a complex multi-layered issue.
"We over intellectualise these issues and look for very complex causes and then complex solutions, but in reality when you see people's stories, we know what the root causes are.
"People not feeling safe in their bodies and this is the basics of trauma."
The "Lived Experience" project opens at the Copper House Gallery on Saturday, March 7 and from Monday, March 9 to Wednesday 11.
PA