Ireland has recorded two more deaths among people who tested positive for Covid-19.
They were males in the east of the country.
There have been six fatalities related to the infection in the Republic, the Department of Health said.
It brings the total number of confirmed cases to 1,125.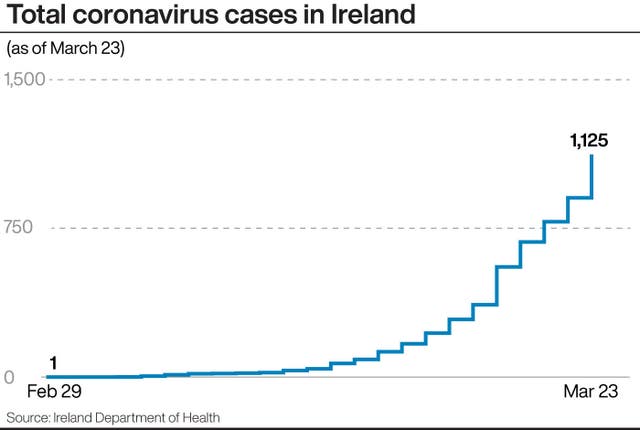 Dr Tony Holohan, chief medical officer at the Department of Health, said: "We understand the anxiety this outbreak may be causing people.
"All aspects of our public health advice are constantly reviewed by the National Public Health Emergency Team and we will not hesitate to take more measures where necessary, based on epidemiological evidence and in proportion with Ireland's experience of this outbreak."
Ireland's deputy premier Simon Coveney said on Monday that he has been tested for coronavirus after coming into contact with someone who tested positive for Covid-19.
He confirmed that he tested negative.
In a tweet he wrote: "Like thousands of other people, I was contacted recently by the HSE (Health Service Executive) contact tracing team to say I had been in close contact with a person who tested positive for Covid-19.
"I followed all protocols and tested negative.
"Sincere thanks to HSE team for their professionalism and courtesy."
Research conducted on behalf of the Department of Health shows that more than 93% of the population are washing their hands more often as a result of coronavirus.
The nationally representative online survey of 1,270 adults conducted on Monday revealed:
– 88% of people say they are staying at home, rather than going out
– 84% of people say they are practising social distance in a queue
– 71% of people say they are sitting further apart from others
– 75% are confident they would know what steps to take if they developed symptoms, and 90% know the two most common symptoms (fever and/or cough).
The Taoiseach Leo Varadkar said he does not think parks and public places will have to close yet over fears people are not doing enough social distancing amid the coronavirus outbreak.
The Taoiseach said any decision to enforce tougher restrictions is not going to be made because of what is trending on Twitter or political populism
The National Public Health Emergency Team (NPHET) is meeting on Tuesday to consider whether more measures are needed to tackle Covid-19.
NPHET will discuss whether to enforce a clampdown on movement in public spaces including walking trails, beaches and parks.
Speaking in Dublin on Monday, Mr Varadkar said: "If they recommend further restrictions, we will implement further restrictions, but I should say, any move to further restrictions is not going to be made because of what is trending on Twitter, or political populism.
"It will be made on the basis of the chief medical officer and his experts.
"I am mindful of what Michael Ryan of the WHO (World Health Organisation) said at the weekend. He said some countries are focusing too much on lockdown. If you have a very sharp lockdown, the virus might come roaring back."
Asked if the Government is doing enough to advise the public when it comes to social distancing, Mr Varadkar said: "I think we are being proactive. What we are doing and what we have done from the very start is follow the advice from the CMO and the experts."
Mr Varadkar asked the public to "bear with us" when it comes to testing for Covid-19.
"Some countries have abandoned community testing but we're ramping it up – we're trying to get it done as quickly as possible."
Mr Varadkar said he does not want to comment on the approach being taken by the British Government compared to the Irish Government when it comes to dealing with the coronavirus outbreak.
"What I don't want to get involved in is criticising different governments," he said.
"Every government has to make their own decisions and take the advice of their experts and their scientists. The situation is different in different countries.
"When I spoke to Boris Johnson, I did bring to his attention the issue of Northern Ireland and the fact that we are one island. In many ways we are one epidemiologic unit.
"I agreed with him that we should try and co-ordinate measures as much as possible – north and south.
"There is ongoing contact between the Stormont Executive and Government and the two CMOs and the ministers."
It comes as the Health Minister Simon Harris warned on Monday that further restrictions on movement could come into force if people continue to ignore advice about social distancing.
At the weekend, Wicklow County Council closed the Glendalough car parks and facilities after swarms of people gathered in the popular spot over the weekend.
Mr Harris welcomed the decision.
"I am very pleased that the council stepped in there and said: 'We can't properly social distance here so we're shutting down the car park, we're shutting down the premises', and that's the sort of decisive action that needs to be taken," Mr Harris added.
Mr Harris told RTE Morning Ireland that a number of people have not been able to follow the two-metre distancing measure.
"Perhaps greater guidance in relation to playgrounds and public spaces could be useful as well, and perhaps greater guidance and support for businesses too," he said.
Mr Harris added: "Tony Holohan, the Chief Medical Officer, will analyse all of these things, he will look at the current restrictions and how well does he think they're working, and he will give us a view on that.
"He'll also look at any further measures that we should take.
"What we're trying to do here, though, is make sure we can look after the wellbeing of all our people, their mental health and their ability to get out and have a walk, but that's very different to people going to a crowded park together – that's just not on."
On Sunday, health authorities in Ireland confirmed a fourth patient diagnosed with Covid-19 had died.
The male patient, in the east of the country, had an underlying health condition, the health service said.
The Department of Health said on Sunday there were 121 new cases of the virus.
It brings the total number of confirmed cases of Covid-19 in Ireland to 906.
Mr Harris said he expects a delivery of personal protective equipment for health workers to arrive in Ireland later this week.
It comes after Ireland's top health service official said huge orders have been placed for Covid-19 testing equipment and protective gear for staff.
The massive increase in demand is due to everyone with coronavirus symptoms being asked to self-isolate and await a check.
Almost 40,000 sample test kits are being distributed. Another 20,000 will be in Ireland by Wednesday, the health service said.
The Republic is at an advanced stage of negotiations with China to secure a further 100,000 and good progress is being made, it said.
Mr Harris added: "I can't put a specific day on it, we're hoping to begin to see the arrival of some of this towards the end of the week.
"There is personal protective equipment already in Ireland and what the HSE (Health Service Executive) are trying to do this week is redistribute what we already have."
PA