Irish Premier Leo Varadkar has urged people to ignore rumours and fake news about Covid-19 on social media.
He tweeted: "I am urging everyone to please stop sharing unverified info on What's app groups. These messages are scaring and confusing people and causing real damage. Please get your info from official, trusted sources."
Deputy Irish premier Simon Coveney also dispelled rumours circulating on social media that the country is going into "lockdown".
Thousands of pubs and bars across the Republic of Ireland were urged to close by the Government on Sunday night, in a bid to halt the spread of Covid-10.
It is estimated up to 140,000 people who work in restaurants, pubs and in childcare have been laid off work because of the measures taken to tackle the virus.
Mr Coveney told RTE radio: "There are many false rumours about us going into lockdown – people need to think carefully about where they get their information from."
He said no "dramatic new decisions" will be made on Monday in relation to closing businesses such as cafes and restaurants.
Some restaurants and cafes have already voluntarily closed, over concerns for their staff and a drop-off in business due to the increase in people working from home.
There were 40 new cases of Covid-19 confirmed in the Republic on Sunday, bringing the total number to 169.
Seven new cases in Northern Ireland were confirmed on Monday, bringing the total number of cases there to 52, and to 221 on the island of Ireland.
Two people with the virus have so far died in the Irish Republic.
The National Public Health Emergency Team will meet on Monday and this will be followed by a meeting of the Cabinet Sub-Committee on Covid-19.
Mr Coveney said: "We will act on the advice of the chief medical officer and his team, but I don't think you are going to see any dramatic new decisions made today."
He added he wanted to dispel rumours circulating on social media and in WhatsApp groups about how the Government is handling the outbreak.
Mr Coveney urged people not to believe everything they read on social media and refer to trusted sources of news.
He said: "The risk of contracting it (coronavirus) is no higher in the UK than it is here.
"We are not planning to close airports or shut down flights between Ireland and the UK, despite what some people might have read on social media and on the back of false rumours."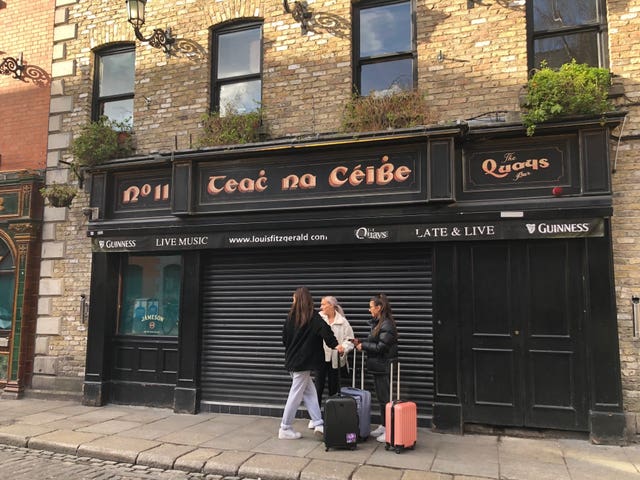 Irish citizens who are in Spain or the Balearic or Canary Islands are being advised to travel home by midnight on Thursday.
Mr Coveney said that Aer Lingus and Ryanair would operate flights to bring them home in the coming days.
The head of the Restaurants Association of Ireland called on the government to issue a directive asking restaurants and cafes to close.
Chief executive Adrian Cummins told RTE radio most restaurants were less busy than usual over the weekend.
He said: "We want to close but they need to tell us so that everybody closes. This needs to happen this morning in the best interests of people's health."
Ireland's chief medical officer said actions taken by the public and health professionals in the next week will be vital to flatten the curve when it comes to tackling Covid-19.
Dr Tony Holohan said the steps include:
– Reducing social contacts
– Keeping your distance from others
– Stop shaking hands or hugging
– Avoid touching your eyes, nose or mouth
– Wash your hands regularly and practice cough and sneeze hygiene
– Clean and disinfect frequently touched objects and surfaces
– Check on your vulnerable family members and neighbours
– Work from home where possible.
PA