Widespread flooding and winds of more than 90 miles per hour have caused severe disruption as Storm Ciara batters the UK.
Thousands of people were left without power, some homes were evacuated and buildings were damaged as heavy rain and strong gusts swept across the country on Sunday.
Dozens of domestic and international flights were cancelled and train companies urged passengers not to travel.
Ferries were also affected, while drivers faced treacherous conditions with floodwater, fallen trees and other debris closing roads.
Sunday's sporting programme was also disrupted, as horse racing, rugby union, rugby league and football fixtures, including the Premier League match between Manchester City and West Ham in Manchester, were all postponed.
Met Office amber and yellow weather warnings remain in force, as forecasters warn flying debris could lead to injuries or endanger lives.
Gusts of 97 miles per hour were recorded on the Isle of White, with 93 miles per hour winds hitting Aberdaron, a village at the tip of the Llyn Peninsula.
Inland, Manchester Airport recorded gusts of 86 miles per hour, while 177mm of rain fell in Honister Pass, in Cumbria, in the 24 hours to 4pm on Sunday – around one-and-a-half times the average February rainfall of 112mm.
Some 539,000 people experienced a power cut on Sunday with 118,000 left without power by 4pm across the whole of the UK, according to Energy Networks.
More than 200 flood warnings were issued across England, including one rated severe at Pateley Bridge, in North Yorkshire, meaning there is a danger to life, which was later stood down.
Chris Wilding, flood duty manager at the Environment Agency, said: "Some significant river flooding is possible across parts of the north of England today due to heavy, persistent rain and severe gale force winds associated with Storm Ciara.
"We urge people in at-risk areas to remain vigilant.
"Minor coastal flooding impacts are also possible for parts of the south, west and north-east England coast, where high tides, large waves and coastal gales combine.
"We advise people to check their flood risk, stay safe and avoid activities such as storm selfies."
The town of Appleby-in-Westmorland, in Cumbria, was hit by severe flooding as the River Eden burst its banks, with residents battling to protect their homes.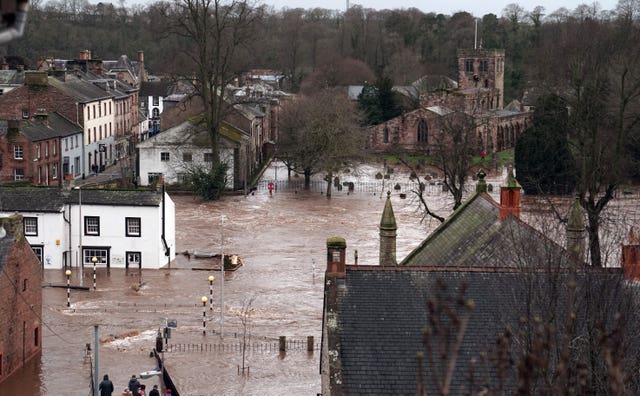 Cumbria Fire and Rescue Service urged people not to drive through floodwater after they rescued a number of motorists, while police forces across the country advised people to stay off the roads.
The River Irwell burst its banks at Radcliffe and Bury Council set up a rest centre in a leisure centre for residents affected by the flooding.
A major incident was declared in Lancashire, where firefighters received 311 calls, including 192 related to flooding, before it was stood down.
Areas including Whalley, Longton and Rossendale were affected, with some properties in the Blackpool area evacuated.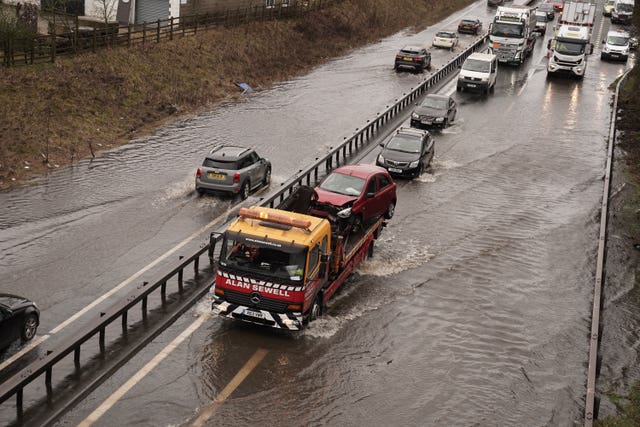 Firefighters in the town had to rescue a motorist whose car got stuck in deep floodwater and a man escaped with minor injuries after being trapped for over an hour when a tree fell on a car in Flitwick, Bedfordshire.
A surfer was rescued from rough seas after losing his board following a search by rescue teams from HM Coastguard and the RNLI off the coast of Hastings, East Sussex.
In Scotland, part of a cafe and guesthouse collapsed into the fast-flowing River Teviot in Hawick in the Borders, leaving the rooms inside exposed.
Three people were injured after part of a pub roof collapsed in Perth on Saturday evening and a stand at Wisbech Town FC's Fenland Stadium, in Cambridgeshire, collapsed on Sunday due to powerful winds.
In London, a crane was bent over by gusts "like it's made of spaghetti", according to Lindsey Wells, 36, who pictured the damage near Stanmore Tube station.
A North Wales Twitter user shared footage of rough seas flooding roads and bringing water to his front door on Tremadoc Bay in Criccieth, Gwynedd.
"This is quite an exceptional storm and I haven't seen wind this strong for quite a few years," 58-year-old company director Gethin Jones told the PA news agency.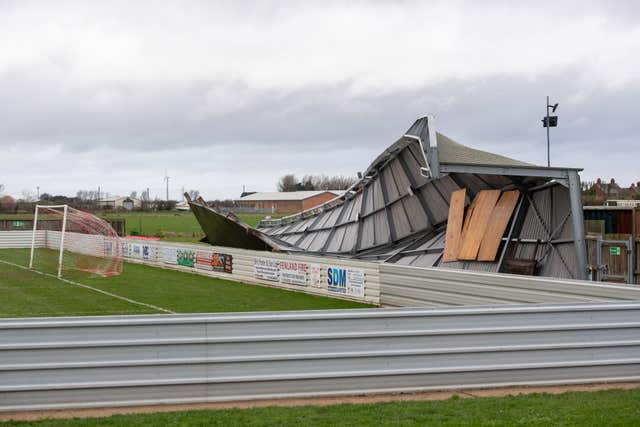 Flights to and from major UK airports were cancelled and disrupted, including Qantas flight QF10, which returned to Heathrow after experiencing a suspected tailstrike during take-off.
Engineers found no damage to the fuselage of the Boeing 747, but the flight to Perth was cancelled because of limits on the crew members' flying time, the airline said.
A passenger on a flight from Florida said the plane's landing at Gatwick Airport on Sunday morning was aborted three times before finally landing on its fourth attempt.
Keith McDowall, 90, from Islington in north London, told PA: "I've never had anything quite like it. I admit I was scared.
"It (the plane) was veering around and it kept shaking.
"The pilot did a very good job to land it."
But strong tailwinds as Storm Ciara blew in saw British Airways break the record for the fastest flight by a conventional airliner from New York to London.
The BA112 flight, which took off from John F Kennedy airport, was scheduled to land at Heathrow at 6.25am on Sunday but arrived 102 minutes early at 4.43am.
Train firms including Caledonian Sleeper, Gatwick Express, Grand Central, Great Northern, Hull Trains, LNER, Northern, Southeastern, Southern, Thameslink and TransPennine Express, issued "do not travel" warnings.
And there was widespread disruption across the network as rail companies in England, Scotland and Wales operated with reduced timetables and speed restrictions in place throughout Sunday.
A trampoline blown onto train tracks in Chelsfield, south London, disrupted rail services from the South East into the capital.
And a train was sent to rescue stranded passengers in Swanley, Kent, after a Southeastern service from Faversham to Victoria was blocked by a fallen tree.
Ferries have also been disrupted, as P&O said all services at the Port of Dover were suspended due to strong winds and Mersey Ferries cancelled all services until further notice.
The Humber Bridge was closed entirely for only the second time in its history, according to its website.
The Queen did not attend church in Sandringham due to high winds in the area.
And London's eight Royal Parks, which include Hyde Park and Regent's Park, were all closed on Sunday.
The London Winter Run 10k event, due to be attended by 25,000 runners, was cancelled after organisers said they were "not able to guarantee the safety of our runners, crew and volunteers".
The Met Office has an amber warning for wind in force for much of England and Wales until 9pm, while a yellow warning covering the whole of the UK is in place until midnight.
Met Office meteorologist Alex Burkill said: "Even through the early hours of Monday and throughout the day, it's going to be windy.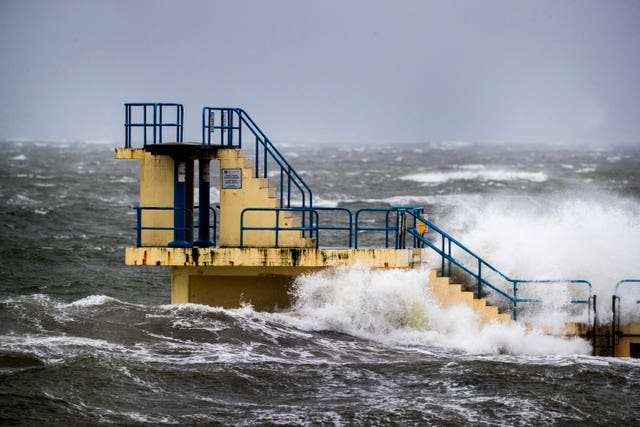 "We have further warnings, there will be further showers and snow.
"While Storm Ciara is clearing away, that doesn't mean we're entering a quieter period of weather. It's going to stay very unsettled."
Strong gusts are expected to continue to hit Northern Ireland and most of Scotland after the storm has moved away on Monday with heavy snow also predicted and yellow warnings are in place for the regions until midday on Wednesday.
The Met Office has also issued a yellow warning of snow and ice for North West England for Monday and Tuesday, and a yellow warning for wind in the south is in place between 10am and 5pm.
PA