These gingerbread house fails prove that biscuit-based architecture is harder than it looks
Let's just say you wouldn't want to live in any of these houses.
Gingerbread houses are a staple of the festive season, with our Instagram feeds (and indeed our bellies) full of beautifully-decorated spiced houses this time of year.
But as so often happens, social media makes things look a whole lot more perfect than they actually are in real life. Spare a thought for those who attempted to make the picture-perfect gingerbread house, only to find that biscuit-based architecture is actually really quite tricky.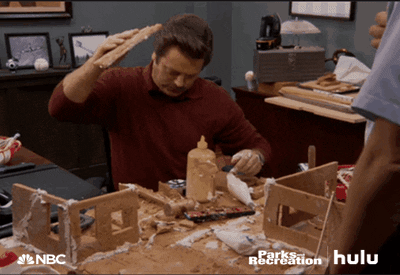 Here are some of our favourite gingerbread houses that didn't quite go to plan, despite the efforts of some particularly valiant chefs.
Some gingerbread creations didn't even get to a stage of resembling houses.
Since it's December 3rd I'm gonna catch up on the days I missed... Here's our fail at the gingerbread house pic.twitter.com/VKF2BSVexG

— Kate 💓 (@katelynmarie292) December 4, 2017
Others suffered severe, irreparable structural damage.
Listen. I tried to make a gingerbread house. OK I tried pic.twitter.com/TnW14IQxgd

— ❄Lex The Halls❄ (@LonelySpaceKid) December 7, 2017
The girls' attempt at a gingerbread house while we were at the bball game last night 😀 #unfinishedbusiness #toocutetho pic.twitter.com/oDRu9WTUVM

— Carrie (@carebearz_001) December 8, 2017
Let's hope the #Badgers night gets better than my attempt at building this gingerbread house. ☹️ pic.twitter.com/8yRXEnT2xT

— Tessa Ruid (@TessaRuid) December 3, 2017
Some builders went a bit too over the top with decorations, leading to difficulties.
@CatherinePaiz @AustinMcbroom we tried to make a gingerbread house and write ACE family on it but we failed.... tomorrow we are making another one! pic.twitter.com/6ZZ85Yj6ys

— Fernanda Sillero (@fersillero) December 9, 2017
My daughter and I tried to make a gingerbread house tonight😂😂😂 pic.twitter.com/QdpyxezGW8

— DebIsGone (@DebIsGone) December 3, 2017
And then there were the buildings that looked more like haunted houses than gingerbread houses.
Something seriously terrible happened at this gingerbread house.#gingerbreadhouse #Christmas2017 pic.twitter.com/48oBdK3Ijm

— Seantaclaus R. Frazier (@TheCleftonTwain) November 26, 2017
I was going to have the best homemade gingerbread house ever, then it fell. #fail pic.twitter.com/FItRzBul3d

— Jac (@JaclynHagstrom) December 10, 2017
We're not even sure how these houses managed to break up into so many pieces.
RIP Gingerbread house pic.twitter.com/MV9iaqXiSq

— Alexandra (@nursealex95) December 11, 2017
Every year I attempt to make a gingerbread house and every year it ends up like this: pic.twitter.com/bgsSjrKwZh

— kayla (@KaylaTurpin) December 9, 2017
Maybe those houses were also struck by dinosaurs?
#gingerbreadhouse #fail just add #dinosaurs pic.twitter.com/B4yWBLQVAy

— Holly who (@Hollywho77) December 11, 2017
But there is a silver lining: Even if your gingerbread house isn't quite worthy of a photoshoot, at least it'll still taste amazing.