A student from the US has made a Halloween costume Stranger Things fans will absolutely love.
Mitchell Felton, 23, dressed up as the character Eleven from the hit sci-fi TV show – a slightly odd character with supernatural capabilities who is played by a young girl in a dress.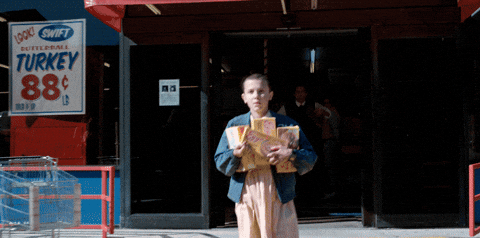 That gif showed British actress Millie Bobby Brown playing Eleven in the series.
Meanwhile, here's Mitchell.
Pictures of Mitchell in the costume have gone viral, with Netflix – the creators of the show – even tweeting out an image showing where it was originally posted on Reddit.
Truly, it's one of the best Halloween costumes of the year. So what makes it such a compelling set of images?
"The sheer humour of a large 6ft 3in, 300lb bearded man dressing as the role of a small girl with supernatural powers," Mitchell, a student at Lander University in Greenwood, South Carolina, told the Press Association.
Laughing, Mitchell explained he pulled the outfit together with a blue jacket from Belk, a white collared shirt, long white tube socks, 10 dollar Nike Hyperdunks from TK Maxx – and his mother's nightgown.
The pictures were taken by Mitchell's friend Katie Porter and have received a huge amount of attention on social media – after being posted by his friend Taylor Ramey on Reddit.
"The amount of positive feedback I've received and the comments like 'this made my day', 'I want to be friends with this guy', or 'thank you so much for making me laugh' is really all I could've asked for," said Mitchell. "This costume makes people happy, and that's what matters most."
PA