Sean Spicer's 11 spiciest moments
A look back at the press secretary's greatest hits.
It's the end of the era: Sean Spicer, someone who has been such a constant presence in the news as Donald Trump's press secretary, is resigning.
That's right, the man who inspired Melissa McCarthy's now infamous impressions will soon no longer be a part of Trump's administration.
Two people with knowledge of the decision revealed the news and, although Spicer will soon be gone, he will not be forgotten.
His six months in the White House were rocky to say the least, so here are some of his most memorable moments as press secretary.
Sean Spicer, sashay away.@RuPaul pic.twitter.com/dOwi5anU3T

— ☃️❄️J(ingle)B(ells)🎅☃️ (@JBfromDC89) July 21, 2017
1. When he started his tenure as press secretary claiming Trump had the "largest audience to ever witness an inauguration, period, both in person and around the globe". This wasn't quite true.
2. When he wore a green tie to a press briefing and this happened.
What happens when u wear a green tie on TV 😭 pic.twitter.com/gAohulqeck

— Jesse McLaren (@McJesse) March 16, 2017
3. When he accidentally wore his flag pin upside down and the Internet was convinced that it was a cry for help.
i fixed ur flag pin for u sean pic.twitter.com/Y9iCnYNKny

— darth:™ (@darth) March 10, 2017
4. When he referred to Canadian prime minister Justin Trudeau as "Joe Trudeau".
Here's the @PressSec clip where he appears to call PM "Joe Trudeau," although he really is just tripping all over his words here #hw pic.twitter.com/FNDhSmgE80

— John Paul Tasker (@JPTasker) February 14, 2017
lol. how a Toronto paper is reporting Spicey's "Joe Trudeau" facepalm: pic.twitter.com/EIB027x08m

— Bonnie Stewart (@bonstewart) February 15, 2017
5. And then when he called Australian prime minister Malcolm Turnbull "Malcolm Trumble." Twice.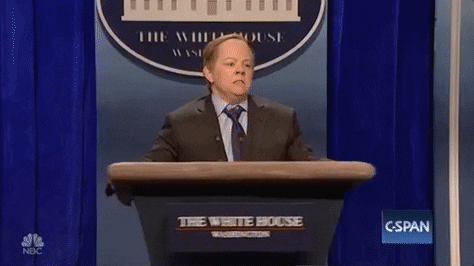 6. When he refused to say what the national unemployment rate was, saying Trump is "not focused on statistics".
7. When he kept on saying "period" after some spurious claims, which quickly then became a meme.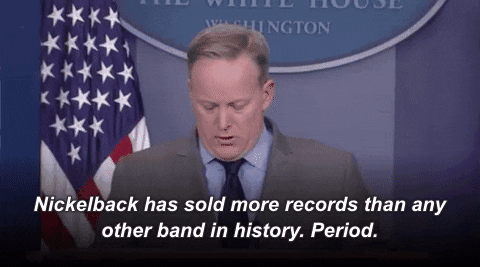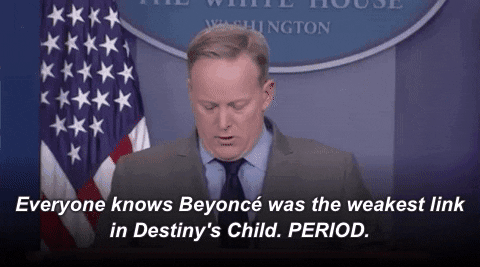 8. That time he hid in the bushes to avoid unwelcome questions from the press.
I love the internet #spicerbushes pic.twitter.com/8doqo7grGX

— Jackie Quintana (@JackieQuintana) May 11, 2017
9. When he accidentally tweeted (and then swiftly deleted) something that people suspect was his password.
White House @PressSec @seanspicer just posted - and deleted - this. I'm guessing it's his password. pic.twitter.com/0rnYYYmyEJ

— Evan O'Connell (@evanoconnell) January 26, 2017
10. When he said that Trump would be connected with Russia for using "Russian salad dressing".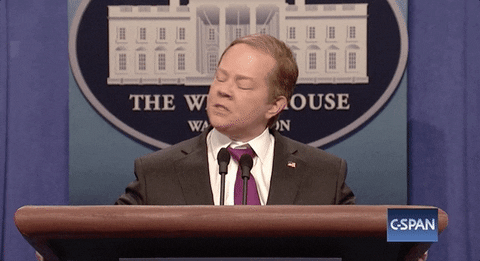 11. And sure, this isn't exactly Spicer's work – but when he brought the world the joy of Melissa McCarthy's impressions on SNL.